"Security and privacy: towards a Safe harbor 2.0": in Rome with Joe Cannataci, a Special Rapporteur on the Right to Privacy
Su quali direttrici si muove il percorso che porterà all'adozione di un nuovo Safe harbour dopo la sentenza con la quale la Corte di Giustizia Ue ha invalidato l'accordo che regolava il trasferimento dei dati dall'Europa agli Stati Uniti? È questa la principale domanda che ha animato i lavori di "Sicurezza e privacy: verso un Safe harbour 2.0", convegno che ha avuto luogo nel pomeriggio di mercoledì a Roma.
L'Università Europea di Roma e l'Accademia Italiana del Codice di Internet hanno promosso, nell'ambito del PRIN "La regolamentazione giuridica delle Tecnologie dell'Informazione e della Comunicazione (TIC) quale strumento di potenziamento delle società inclusive, innovative e sicure", un incontro che sarà ospitato nel Palazzo Bonadies Lancellotti (Via di San Pantaleo, 66). Il keynote speech è stato affidato a Joe Cannataci, UN Special Rapporteur on the Right to Privacy.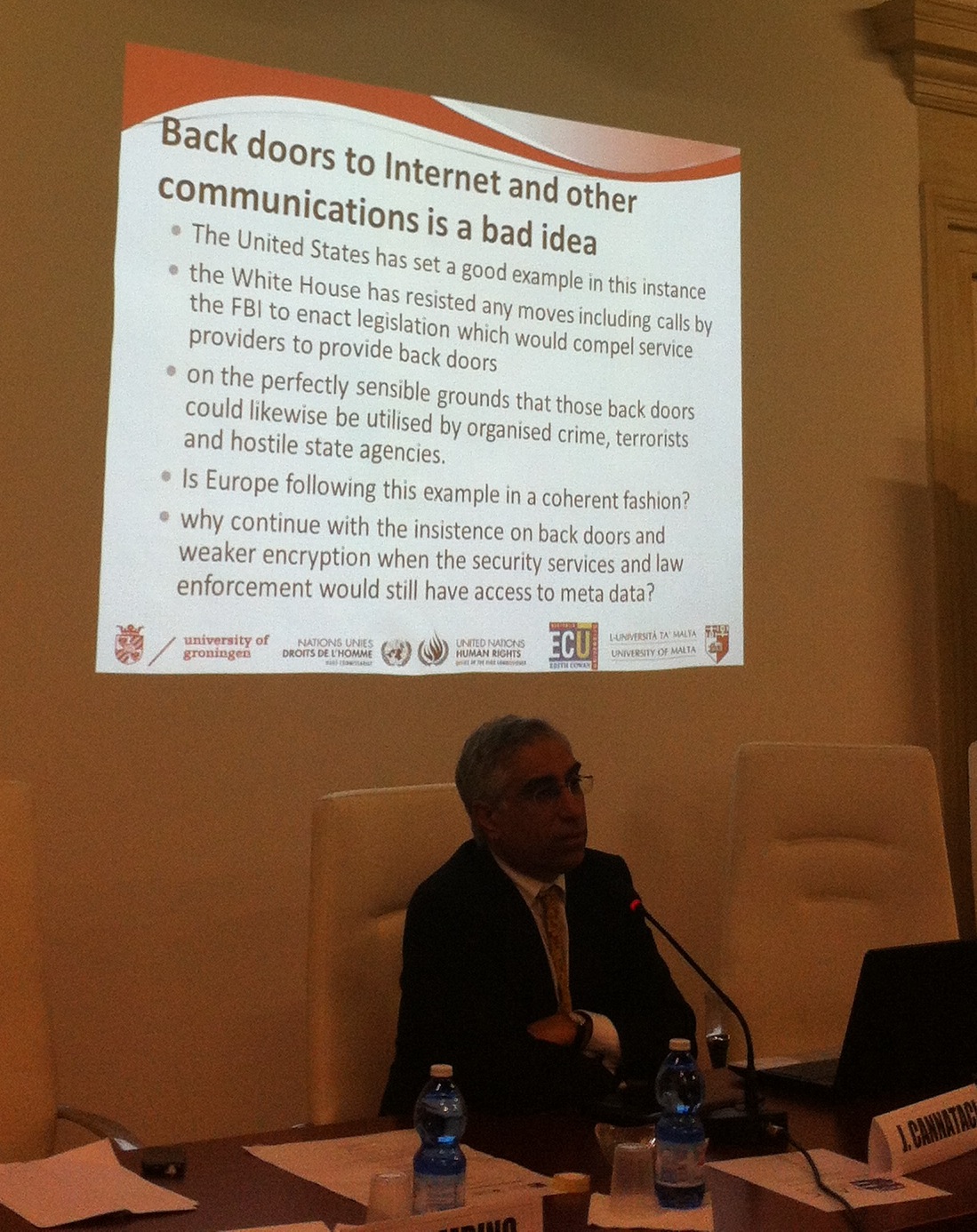 Dopo l'introduzione del Prof. Alberto Gambino, Presidente dell'Accademia, e con la moderazione della Prof.ssa Giusella Finocchiaro dell'Università degli Studi Bologna, le relazioni di Claudia Colonnello (Laboratorio di Scienze della Cittadinanza), della Prof.ssa Valeria Falce (Università Europea di Roma), del Prof. Oreste Pollicino (Università Bocconi di Milano), del Prof. Giorgio Resta con Mariavittoria Catanzariti (Università degli Studi di Roma Tre), di Guido Scorza (Presidente dell'Istituto per le Politiche dell'Innovazione), di Lucio Scudiero (Research Fellow dell'Istituto Italiano Privacy) e di Andrea Stazi (Public Policy Manager at Google). Le conclusioni sono state curate da Giuseppe Busia, Segretario Generale dell'Autorità Garante Privacy.